During the seven years i lived in China, there were things I vowed I would never eat. Chicken feet and duck tongue were on the list, and insects of any kind topped it. Yet there I was last New Year's Eve, with a friend's family, facing a plate of bee larvae.
They were golden and crispy, the size and shape of little capsules. A few queens, larger and dark brown, lay scattered on the plate. As they were an expensive delicacy my hosts had bought specifically for my visit, I thought I could manage to eat one or two to be polite. I reached for the smallest. It was not unlike cheese: sharp and slightly chewy. Quite good, in fact, so I reached for another—and many more throughout the meal.
This was one of many pleasant surprises I encountered this past winter on a trip to southeastern Yunnan, a region often overlooked in guidebooks. Travelers to Yunnan are instead steered toward a narrow range of sights. There is the majestic and mystical Yunnan on the doorstep of Tibet. Mystical indeed: the town of Xianggelila was renamed from Zhongdian in 2001, to approximate the pronunciation of Shangri-La. Then there's the tropical and lush Yunnan that borders Myanmar and Laos.
But the province is large (about the size of California), and the southeastern corner bordering Guangxi offers a quiet alternative to the better known tourist destinations. I am always intrigued by "empty places" on maps, so when my friend asked if I would like to accompany her as she visited relatives, I jumped at the chance to explore.
We flew into Nanning, the capital of Guangxi, two days before the New Year, and rode by bus and car for the next six hours. The passing landscape went from karst hills to a sea of sugar cane to low mountains. The last came after we had rendezvoused with our car ride in Baise and crossed into Yunnan, on the Guangkun ("Guangzhou-to-Kunming") Expressway. This part of the road has only been open for about five years, providing a smooth ride through the winding inclines. Early in the evening, we arrived at our first destination: Funing.
The next day, my companion's relatives invited us for lunch—hot pot with that tasty side dish of bees. Their house was set in the hillside on the southern edge of this small city, amid a cluster of homes making up a cozy neighborhood.
After lunch, we climbed the stairs in the narrow alleyways between houses. Within ten minutes, we were out in the countryside, skirting small neighborhood gardens of cabbage before meandering through fields of sugar cane. The hills were high enough to look down at the city center clustered around the Puting River; beyond that, more hills rose.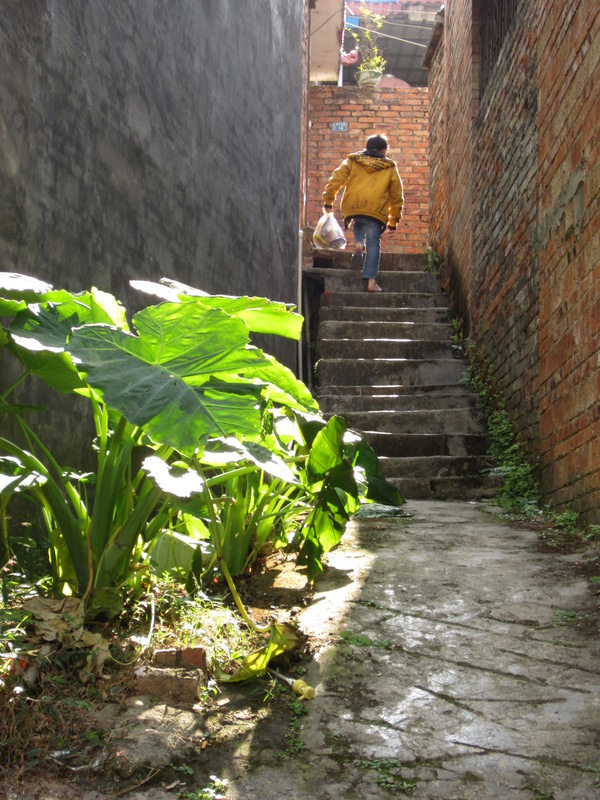 A boy on the stairs between houses leading to the countryside.
As there's not a great deal to do in Funing, those looking to check off a list of famous places might give it a pass. There are no chartered buses unloading tourists in matching baseball caps who march along behind a flag-waving guide. If that fact is appealing, however, Funing can be a pleasant place to visit. We spent a lot of time outdoors, as the days were warm—hitting about 60 degrees Fahrenheit.
On New Year's Day we visited a small Buddhist temple on the outskirts of town, which involved another scramble up a charming, narrow path between houses. On the way back, we followed the river through the handsome downtown. For one yuan (about fifteen cents), we rode part of the way on what looked like a stretch golf cart, which serves as a kind of city bus. Just before it turned around to loop back, we got off, bought cups of milk tea, and strolled back amid the palm trees that line the river.
That night, we were back with my friend's relatives for dinner. Our hosts had invited others as well, and after the meal, we all sat on stools in the living room, huddling around an iron charcoal pit. Since the climate was dry, the midday warmth dissipated quickly and nights often fell back into the high 30s. As we warmed ourselves, one of our hosts began telling us of the coming end of the world.
"If you believe," she warned, "you will be saved. If not, you will be killed."
She was a follower of the Church of Almighty God, which has become quite popular in China recently. Its believers maintain that Christ has been reincarnated as an old Chinese woman, and that doomsday is imminent. The group's Web site, alluding to the Communist Party as the "great red dragon," states that, of all countries, China resists God the most. (Not surprisingly, the government's response has been to classify the group as an "evil cult.")
Soon all the women chimed in, becoming animated as they produced micro SD cards. One took a card from her cell phone, another from a wadded up tissue she had in her jacket pocket. Swapping the cards into an mp4 player, the women pointed to photos as proof of their beliefs. In one, a giant pair of hands, palms upturned, emerged from the sky; in another, clouds formed a distinct map of China. At the end of the evening, one of the women handed my friend her SD card, urging her to study the photos in more detail later: Photoshopped samizdat for the 21st century.
Two days later, we left Funing. I could have stayed much longer, despite seeing most all there was to see. Having lived in the bigger, bustling cities of the south and east, I found the slower pace, close countryside, and blue skies rejuvenating.
It was unassuming and easy to miss—not only by tourists. On a large billboard atop riverfront buildings downtown, former leader Deng Xiaoping is pictured overlooking a panoramic photo of the city. Superimposed words say, "Funing is the revolution spot. This is a fact. Relative government departments please give Funing more benefits." It had my vote.
Back on the Guangkun Expressway, we traveled west, toward the larger city of Wenshan. My Lonely Planet guide had this to say about it: "Nothing in the city itself really warrants a visit . . ." Nevertheless, there were relatives to see, and we set off on the first day of rain since we had arrived. Temperatures were cooler, too, as we climbed the foggy, mountainous landscape, and our bus seemed to take shelter in the countless tunnels we burrowed through.
"My Lonely Planet guide had this to say about it: 'Nothing in the city itself really warrants a visit . . . ' "
Many small villages here do not have regular bus service, so travelers often wait on the roadside with their luggage. As we passed two women walking with umbrellas, they spun in unison, reaching out at us like synchronized swimmers, to try to hail a ride.
Halfway through the three-hour ride, the fog cleared a bit and entire hills covered in black shade cloth began to appear. My friend explained that the san qi plant was grown in this region. "While other plants like sun, this doesn't," she said. "So they cover it."
The name literally means "three seven" for both the arrangement of its leaves and its growing cycle (it is harvested after three years and is said to produce its strongest medicinal effects in the seventh year). Called "pseudoginseng" or "notoginseng" in English, the plant is considered to have beneficial effects on the liver and blood, so is used in many local dishes. I studied the black hills as we neared the city.
In Wenshan, we fell into a routine. Mornings were spent leisurely, and we started each day with lunch, which to my companion always meant wide, flat rice noodles called juan fen. They are served in chicken broth, and diners add their own condiments like hot pepper oil, garlic, and mint.
Afternoons we explored different parts of the city, and then met members of my friend's extended family for dinner. This fitted the weather pattern nicely, as mornings were usually foggy until shortly before lunchtime, when the sun would break through just in time for our excursions.
One day we visited the Wenbi Pagoda on the western edge of the city, climbing all 999 steps built into the hillside on which it stands. The number is deliberate: the word for "nine" in Chinese is a homophone for a word meaning "longevity." At the top, we looked down on panoramic views of the city. The pagoda strictly demarcated urban and rural, as the opposite direction was all countryside: scrub hills dotted with graves.
The best day in Wenshan was the Sunday we went to the San Qi Market. Shops there use all different parts of the plant in a variety of ways. One, for instance, carried large jars of alcohol with whole roots steeping in them, to infuse the spirits with the roots' health benefits and flavor. Another sold the flowers for use as a tea. Outside, san qi roots covered one whole section of the parking lot, drying in the sun, as a woman carefully spread them out with a rake.
Another part of the market included a large area of shops devoted to Miao clothing and accessories. Known elsewhere in southeast Asia by the name Hmong, the Miao are one of China's fifty-five recognized minority groups. (They and the Zhuang are the minorities most prevalent in this part of Yunnan.)
One shop stood out among all the others as having particularly stylish designs, and as we browsed a rack outside on the sidewalk, a young woman in a black pantsuit came out to help us. Luo Yongli, 22, was a recent college graduate. She had studied nursing and now worked in real estate, but the housing market was slow in winter, so she helped out at her cousin's shop. When we pointed to some clothes hanging inside, she invited us in and sat us down at a small table.
Yongli's hobby was studying English, and she excitedly produced her "Crazy English" workbook, all marked up with her translations. Her cousin, Luo Yongzhen, soon joined us and told us more about the shop. Nine years older than Yongli, she had studied fashion at a local college. Yongzhen said that, with the help of a couple employees, they made all the inventory themselves, both women having learned early on from their family how to weave cloth and make traditional clothing.
Yongzhen's personal touch was adding modern styles to the basic Miao design. One side of the shop had traditional dresses and hats, with bright pink and orange colors and rows of decorative silver beads. The other side was clearly different: darker, muted colors like bronze and maroon made up the fabric. On these dresses, Yongzhen had replaced the silver beads with golden ornaments such as old-style coins with holes in the middle (called tong qian) and slender leaves (her bestseller).
Before we left, Yongli went in the back and returned with a handbook and glossary of the Hmong language, with translations in both Chinese and English. It was signed by one of the authors. She insisted we take it, and when we protested, she said, "Nothing is more important than friends. We are the same big family." Finally, we took photos together against the brilliantly colored dresses, and my companion and the women exchanged QQ numbers to keep in touch by instant message.
Later, I couldn't help thinking that the Luo cousins alone warranted a visit to Wenshan, though they'd never be listed in any travel guide. While famous places can certainly be worth seeing, sometimes it's best to overlook them and seek out the less well known. Like the san qi plant, these unsung locations are found in the shadows, and they allow the traveler to encounter culture and people in everyday life.
We left Yunnan a few days later, driving back toward Funing to get to the small regional airport. It was cool and foggy, just as it had been when we arrived. After turning off the highway, we climbed the long, straight incline to the airport, the road ahead seeming to disappear into the mist. We boarded the only plane on the tarmac and, unable to see more than a few feet in front of us, streamed down the runway and into the surrounding cottony air. ♦